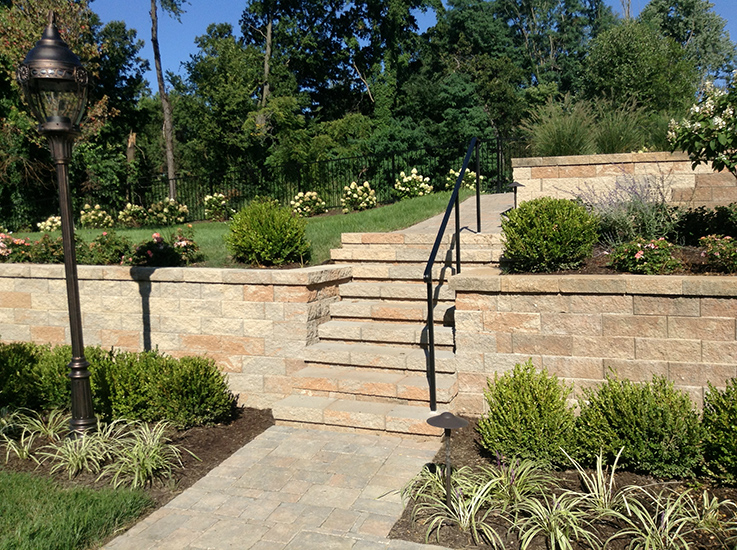 The goal of most homeowners is to make their property look great and be a functional space for living, working, and enjoying time with family and friends. On the inside of the home, there are many easy and semi-permanent solutions such as painting the walls, installing new furniture, or remodeling the kitchen. Many people are not aware of the diversity of improvements to the outdoor element of the property that can be installed.
Stonework is not limited to rudimentary patios or unimpressive retaining walls- an experienced mason can accomplish great works of functional art that will leave a lasting impression on your property. Besides the personal and family benefits of installing stonework, another reason to consider making this investment in your outdoor space is curb appeal. This is how your home looks to others (neighbors or potential buyers) at first glance. Stonework will entice them to find out more about you and your property!
Stonework for All Properties
All stonework can be customized with materials, colors, and designs. It isn't limited to simple rock pathways anymore. There are tons of materials that can make the job simpler and even weather resistant than actual stone in some cases. Pavers are a good example of this; they are pre-formed concrete blocks that come in all shapes, sizes, and colors. The great thing about pavers is that they fit together perfectly, meaning your pathway, patio, or retaining wall will be free of irregular cracking and resist weather damage very effectively!
Stonework is certainly an investment that you may have to save up for, but there are many options that have been created specifically to save time and money while remaining of the highest quality to protect your investment. These projects also do not have to be huge; they can be as simple as an elegant patio or effective retaining wall that reduces erosion and keeps your soil in place. You could even have a fire pit installed for any future neighborhood and family events!
The Importance of Curb Appeal
Curb appeal is one of the biggest reasons to invest in stonework beyond its functionality and beauty- especially if you are selling your property or consider selling it in the future. Stonework is rather permanent and very resistant to weather damage making it age gracefully and remain strong even after years of use. Buyers and neighbors love to see beautiful homes, and those with a functional outdoor space are highly desired especially now that people are trying to get outside more.
Final Thoughts
Your next home improvement project can be elegantly set in stone, and there is no better time than now to get started planning for and designing your hardscape! Stonework is a lasting investment in your property whether the project is small or large, your outdoor space will greatly benefit from it, and you will love the ability to have more outdoor family time, a natural workspace, greater curb appeal, and the best spot in the neighborhood to hang out! With an experienced masonry team like Fritz Stonework, all your hardscape dreams can come to life! Call them today for more information at (636) 861-1530.