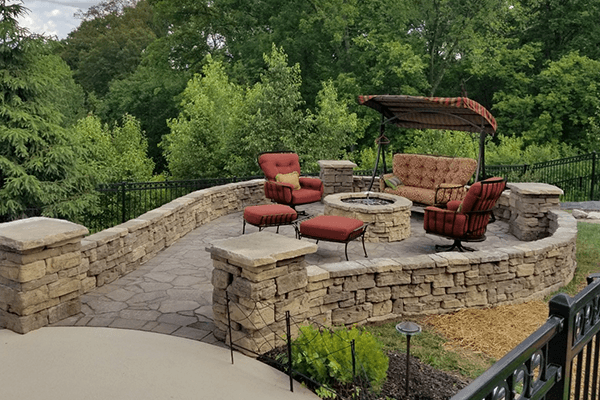 Landscaping can be split out into two categories: hardscape and softscape. Together they are what make an outdoor layout beautiful. Some elements and items can be added to an outdoor space and turned into a pleasant, functional, and enjoyable area. These are the essential elements of landscaping:
● Hardscape refers to all non-living components of an outdoor space such as stone walls, concrete, brick or paver patios, and metal features. Applied correctly, hardscape elements add functionality and beauty to any outdoor area. Hardscape structures heavily determine the flow and design of any outdoor project.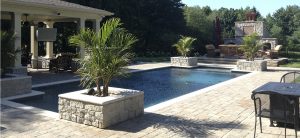 ● Pavers or "concrete pavers" are paving tiles, bricks, or stone generally utilized as an exterior flooring material. While holding a higher value and price point than alternatives such as concrete, pavers have many advantages. They are weather-resistant, can fit in any space, and they can match any design style. An additional great perk is that they are durable and incredibly easy to maintain. Outside of general maintenance such as sweeping and blowing off of natural debris, professional cleaning and sealing every 3-5 years will keep your patio looking great for a lifetime.
● Softscape is the art of setting and maintaining healthy living components in a yard. This includes plants, flowers, trees, shrubs, flower beds, etc. It also involves several tasks such as mowing, fertilization procedures, weed control, pest control, cleanups, mulch installation, and many others –depending on the size and style of the garden. Maintaining the live horticultural elements of a yard requires a certain level of training and expertise. For instance, the seeding process has its specific parameters, the nourishing of the soil, the mowing schedule, fighting weeds, etc.
● Outdoor lighting significantly enhances the beauty of an outdoor space. It serves a dual purpose of functionality and aesthetics. Outdoor lighting refers to lights added into the landscaping, walls, steps, up lights, and spotlights. Lighting adds on coziness and has a welcoming factor –especially useful for those keen on having guests over and allows you to enjoy your outdoor space long into the night.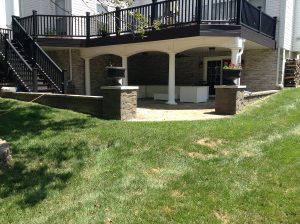 ● There are additional elements to add to an outdoor space such as outdoor kitchens, fireplaces, pools, retaining walls, putting greens, sports courts, pet runs, etc.
With the many attractive options available, it is easy to get overwhelmed when planning and designing your outdoor oasis. So, before committing to a style or purchasing any materials/furniture, consider the following:
● Assess the available space. Surely you want to make the most of the area, but you must consider space limitations, as well as slopes or terrain characteristics. Once you know exactly what parts you can use –and for what purposes –you can begin planning.
● Beauty and functionality. Landscaping is so much more than adding attractive elements to a yard. Design, materials, and furniture, all have to be aligned with the target you have in mind: is this a family-friendly space? Is it designed for adults only? Do you wish to avoid slippery elements for seniors? All of these questions must be answered beforehand.
● Have a budget in mind. With a defined number, it is easier to plan and calculate, not the other way around. If you are lucky enough to have unlimited resources, then you may let your imagination fly!
● Maintenance. Before committing to certain aspects of your landscaping –especially with the living components –ask yourself if you have the will and time to keep it as it was intended. There are artificial components or low-maintenance plants that suit better for busy owners.
Consult an expert. The advantages of hiring professionals to do the job are countless; you will save time, money, and headaches by seeking the input of experts. This will also ensure you have the landscape you've dreamt of! St. Louis Select Landscaping has years of expertise in designing, building, and maintaining functional, stunning outside views in the St. Louis area. You can learn more about their services at http://www.stlselectlawn.com/index.php, or you can reach them by phone at (314)568-6550.